We here at Habitat Clallam are taking the COVID-19 situation very seriously. We are taking all precautions to ensure the safety and health of our staff, volunteers, customers and those that we serve.
As of May 27, 2020 our Port Angeles Habitat Store is re-open! We have modified our hours and procedures to comply with current CDC recommendations. All changes are posted outside the Store. 
Hours of operation at the Port Angeles Habitat Store will be: Tuesdays-Fridays 10:00am~5:30pm and Saturdays-10:00am~5:00pm
As of June 17, 2020 our Sequim Habitat Boutique will resume business, as well. The same modifications will be in practice at this location.
Hours of operation at the Sequim Habitat Boutique will be: Wednesdays-Fridays 10:00am~5:30pm and Saturdays-10:00am~5:00pm
Thank you so much for you support and understanding during this time.
Art Auction Applications Available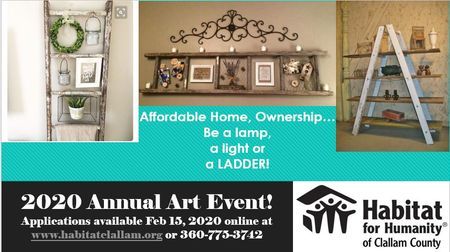 Calling all Artists! It's that time of year again. This year's Art Auction will be ....LADDERS! Applications are available now. All Ladders must be completed and turned in no later then May 31, 2020. Artist receptions will be held in Port Angeles and Sequim (date, time and locations TBD) for viewing where the public will get the chance to vote for their People's Choice. Then, on August 14th we will hold the Art Auction for all the ladders to be bid on as a fundraiser to raise money for affordable housing here in Clallam County.
Dollars Raised (Fiscal Year)

Volunteer Hours (Fiscal Year)

Tons of Waste saved from Landfills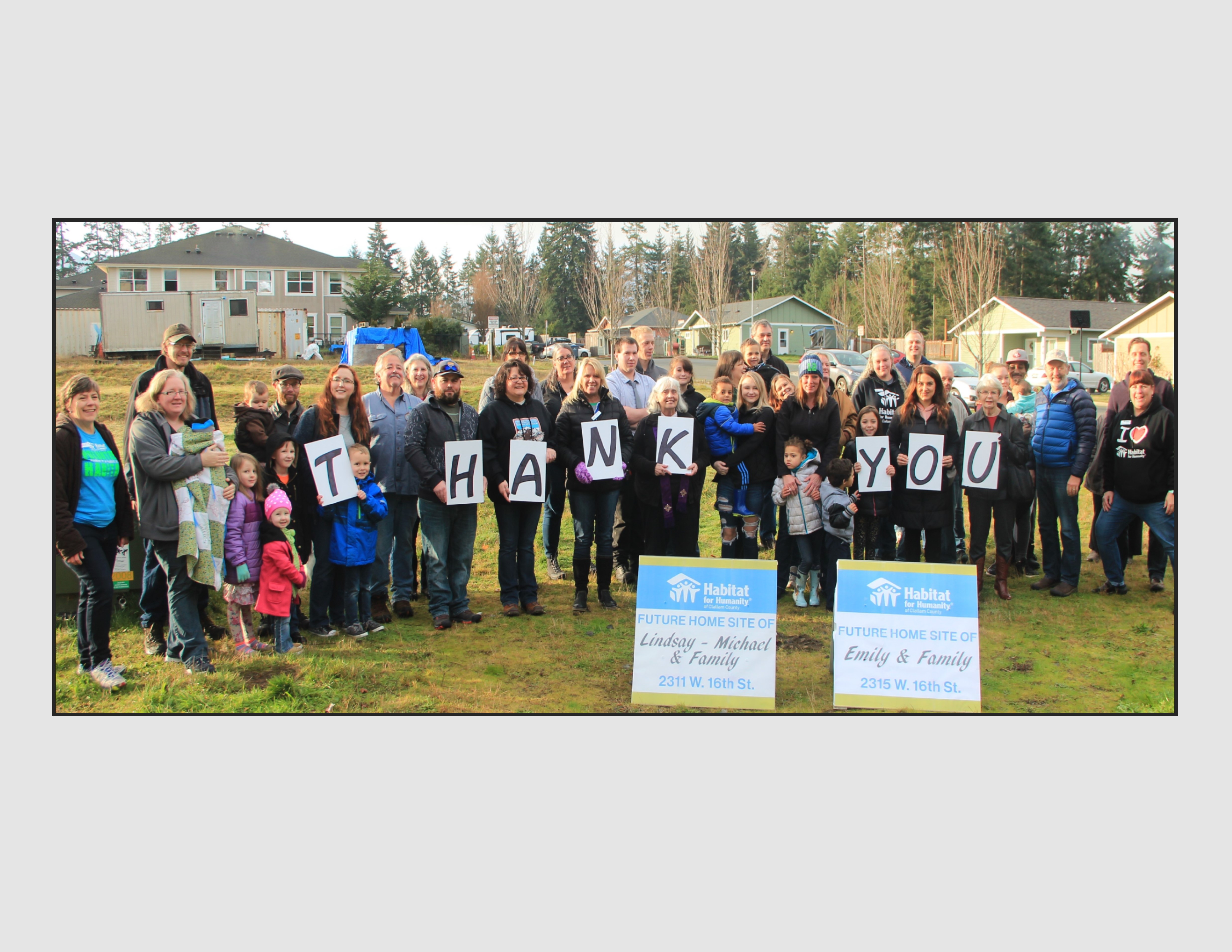 Change a life

Beautiful relationships grow when we give them a chance.
Habitat for Humanity of Clallam County builds and rehabilitates simple, decent affordable homes in partnership with hardworking low-income families. At Habitat for Humanity, we believe that everyone deserves a decent place to live. Our program gives people a "hand up, not a hand out." We empower families who are willing to work hard to achieve their dream of home ownership.

The Stores are a social enterprise of Habitat for Humanity of Clallam County. It was established to be a self-sustaining funding source for Habitat for Humanity of Clallam County, and to provide our local community with low-cost building and home improvement materials.
The Stores sell donated items including new and gently used furniture, appliances, lumber, hardware, vintage and unique items to the public. All home furnishing prices are at least 50% off retail value and all proceeds from the Stores are used toward the Habitat for Humanity mission to end substandard housing worldwide. To donate, call 360-417-7543 to arrange for your pick up.

Help Habitat for Humanity of Clallam County fight the poverty housing crisis by making a tax-deductible gift today. Habitat is working everyday, on and off the build site, to fight the affordable housing crisis. Partner with us and empower your organization and yourself by giving back to your community. Thank you!
Equal Housing Opportunity