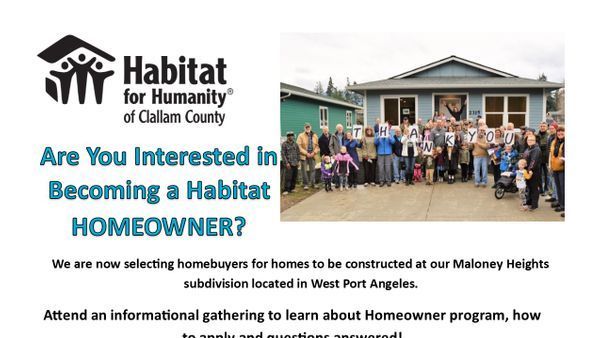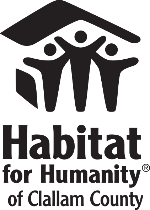 New Homebuyer Informational Meeting
Are you interested in becoming a Habitat Homeowner?
 We are now selecting homebuyers for homes to be constructed at our Maliney Heights subdivision located in West Port Angeles. Attend an informational gathering to learn about our Homeowner program, how to apply and get your questions answered. 
Sequim: Sequim Habitat Boutique Store 213 E. Washington St. Fabruary 4, 2020 1:30pm~2:30pm
Port Angeles: PA Habitat Store 728 E. Front St. February 6, 2020 5:30pm~6:30pm
*NOTE: You are not required to attend one of the meetings to apply, applications will be available February 4 thru March 5 at The Habitat Store Store loacted at 728 E. Front St. Port Angeles, Tuesdays through Saturdays from 10:00am to 5:00pm.
Completed applications will be due by 5:00pm on March 5,2020. LATE APPLICATIONS WILL NOT BE ACCEPTED, NO EXCEPTIONS
Questions? Contatct Family Services Director Julie Eckert at 360-775-3740 or julie@habitatclallam.org